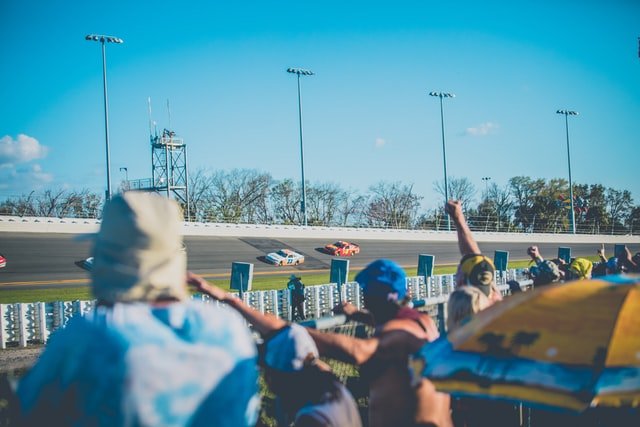 Race fans, start your engines! NASCAR is back!
As one of the few sports to run in the wake of the coronavirus pandemic, NASCAR is now the largest to allow fans to return as more states relax their business shutdowns. While the sport is taking a cautious approach to opening speedways, event planners and sports commissioners look to NASCAR's lead to learn and adapt as the world moves forward.
Our experts weighed in on what reopening means for the event industry in the future. The key takeaways are:
Events aren't going to stop happening
Sports have a heightened understanding of their social responsibilities
Protection will continue to be a top priority
NASCAR has waved the green flag for races to begin in North America. Below, we dive into what opening speedways means, what fans can expect, and what the future looks like for the sports industry.
What Are Speedways Doing For Coronavirus?
Just because speedways are reopening doesn't mean it's race day as usual. Speedways in Florida and Alabama are allowing fans in the stands. Still, all fans will be screened before entering, required to wear face coverings, mandated to social distance at least six feet, and will not have access to the infield, among other revised operational protocols like limited menus and limited food preparation on site. In other states like the Carolinas and Georgia, NASCAR has returned to racing but without fans in attendance.
NASCAR announced a shortened 2020 schedule that begins on the final weekend in June and ends in August. The schedule, and playoff dates, continue to change (and have changed multiple times since the publishing of this article) as restrictions change. To comply with various state health restrictions, NASCAR is getting creative. For example, its August road course race moved from Watkins Glen in upstate New York to the road course at Daytona International Speedway. Despite the slow and methodical phasing, NASCAR vice president of racing operations John Bobo says they're doing everything they can to keep fans, riders, team members, and race officials safe.
What Does This Mean For The Racing Industry?
We're considered by many to be the best in weather insurance. It's because we know the industries we cover inside and out. We exist to make things easier for event planners and business owners, and we're dedicated to accurate information and quotes. Offering critical insights as COVID-19 changes the sports industry is one way we deliver on this promise. Here's what we've learned:
Sporting Events Are Still A Go
NASCAR is opening speedways. The NBA will scrimmage inside a bubble at the Walt Disney World Resort. MLB spring training is starting as summer camp, and MLS has begun in preparation of a short season. And UFC has welcomed back live combat sports — in fan-free venues — for the first time since March. Sports aren't going anywhere as each league continues to adapt in ways that allow players to play, fans to engage, and event planners to organize.
The sports and event industry needs to be agile enough to adjust quickly and effectively. The smartest decision an event planner can make is to create a back-up plan, including a contingency plan for the weather. This preparation gives you peace of mind that if a weather event occurs, your event's budget, bottom line, and reputation aren't left out in the cold (or rain or snow).
Social Responsibility Remains A Top Priority
Professional sports teams are among the most visible and recognizable organizations globally. They can connect with customers and fans on a much deeper level than most corporations do. Because of this, the sports industry is being held to a higher standard when it comes to advancing positive social change in their communities.
As NASCAR continues opening speedways, this shift is playing out in various ways, most recently with the release of a unified message against racial inequality and racism. In the MLB, the Kansas City Royals promised to pay all Triple-A players so they may continue earning income as play is on hold. Teams across the country are stepping up and speaking out, using their spotlight as social responsibility.
Increased Protection May Cause Strain
It won't be easy for industries to keep up with the added costs for testing and other responsibilities. For example, UFC says it spent about $150,000 on COVID testing for Jacksonville fights. The NBA may invest in smart-ring technology for its players. Added costs will be an interesting hurdle for sports to figure out, especially NASCAR, where there are inherently a lot of people per race (40 drivers each with 5+ pit crew members, plus race officials and fans ).
Added protections that may be required by sports organizations and facilities include:
Temperature checks
Gloves
Masks
COVID tests for athletes and staff
Air circulation units
Additional areas for athletes to self-isolate or social distance
Sanitation stations
How Can Sports Survive COVID?
Between the loss in ticket revenue and added operating and safety costs, it may seem unlikely that sports can survive through the pandemic. ESPN analysts think the sudden disappearance of sports will erase at least $12 billion in revenue and hundreds of thousands of jobs. Yet, industry leaders are coloring outside the sidelines to give fans what they want: entertainment.
Youth sports across the nation are resuming, giving weekends a familiar feeling again. Members of Congress have introduced a bill to create an $8.5 billion "youth sports relief fund" to "stabilize the industry and invest in recovery." The NHL's 24-team tournament will begin on Aug. 1 in two hub cities — Edmonton for the Western Conference, and Toronto for the Eastern Conference.
The nation needs sports. They will come back. They are coming back, and they may not be the same. Seasons will be shorter, stadiums might be a little quieter, and hot dogs may be hard to come by. For now, that's alright with us.
Income Stabilization Insurance: A Form Of Speedway Insurance
The sports industry is facing many unknowns in the face of the coronavirus. Additionally, for outdoor sports, business depends on good weather to boost revenue. Weather conditions at the speedway can impact your revenue with decreased sales or increased expenses–turning an already stressful season even more financially disastrous. Vortex Weather Insurance for speedways provides short-term weather insurance policies and long-term solutions to help stabilize income when your event is affected by unfavorable weather.
Vortex tailors each speedway insurance policy to fit your specific risk and concern. We write policies for rain, snow, high and low temperatures, or any combination of measurable weather elements with duration, coverage, limit, payout structure, and triggering events customized to your needs. Unlike event cancellation insurance, your policy can trigger even if your event can continue. If policy conditions are met, we resolve your claim with payment within two weeks–no lengthy paperwork, proof of loss, or adjusters required.
We've learned from the opening of speedways is that the coronavirus pandemic has changed everything in the world of sports. What was true yesterday is different today–and that may be the case for what we've published here today. Vortex dedicates our time to sharing accurate information to help you make the best decisions for your speedway, event, and business. And while you can't predict the weather, we can help protect your business from it.