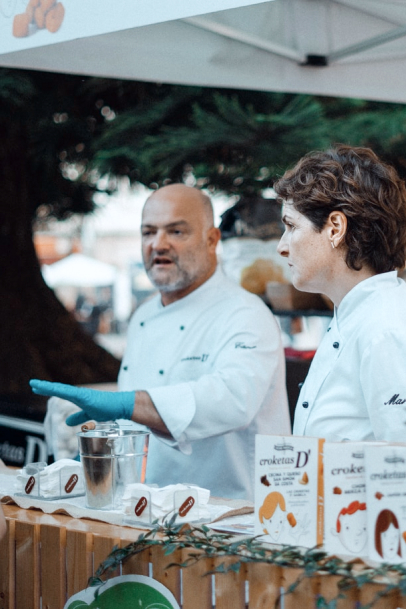 Food and beverage festival insurance
Outdoor food and beverage festivals are a popular and fun way to spend time during the spring and summer. But, just like any other outdoor event, inclement weather poses a threat for both festival attendees and planners alike. That's why rain insurance should be essential for your outdoor food and beverage festival insurance plan. 
At Vortex Weather Insurance, we help provide a financial safety net for your outdoor concert or music festival with rain insurance, so your potential profits don't get washed away in the rain. 
Read on to learn more about rain insurance and how it should fit into your outdoor event or festival insurance plans. 
How rain insurance helps protect your food and beverage festival investment
An outdoor food and beverage festival relies a lot on day-of sales. Your event might sell tickets in advance, but even in those cases, the whole point of the event is to bring people in and have them spend money on the event day. 
These kinds of festivals are particularly vulnerable to inclement weather, because they are so reliant on day-of sales. With rain insurance for food and beverage festivals, you can mitigate potential losses from low attendance. If you offer blanket rain insurance for your event, you can even encourage a better set of vendors to attend. 
Learn more about how rain insurance helps all outdoor events
What is rain insurance?
Rain insurance helps mitigate potential losses incurred due to inclement weather that results in low or no attendance at your event. A rain insurance claim occurs simply when the defined rainfall amount is recorded by a verifiable independent and localized source during the defined time period and the rainfall amount meets or exceeds the predetermined threshold. 
When rainfall keeps participants home, but event cancellation isn't necessary, rain insurance can help ease the impact of lost revenue. Plus, claim payments are quick (typically mailed in less than two weeks) and offer immediate financial relief.
At Vortex, we refer to hyper-localized precipitation data from the National Oceanic and Atmospheric Administration (NOAA) and entities such as the National Weather Service. These measurements accurately and quickly register precipitation in 2.5 mile x 2.5 mile grids. We also accept measurements made by qualified independent weather observers.
Some other rain insurance policies use more generalized data, typically measured at airports or in one centralized location. However, we ensure that our data applies specifically to your location. That's why our policies should be an integral part of your outdoor concert or music festival insurance plans. 
Let Vortex worry about the weather
You have enough to worry about when planning your outdoor food and beverage festival. Insurance shouldn't be one of those worries. When you work with Vortex Weather Insurance, we've got your back for all weather-related concerns. 
It's easy to get caught off guard by the weather, so planning for every eventuality gives you peace of mind. Find out more about our weather insurance policies by using our virtual cost analysis tool, or contact us and we can assist you with anything you may need.
Call us today for a free quote
(866) 997-2469