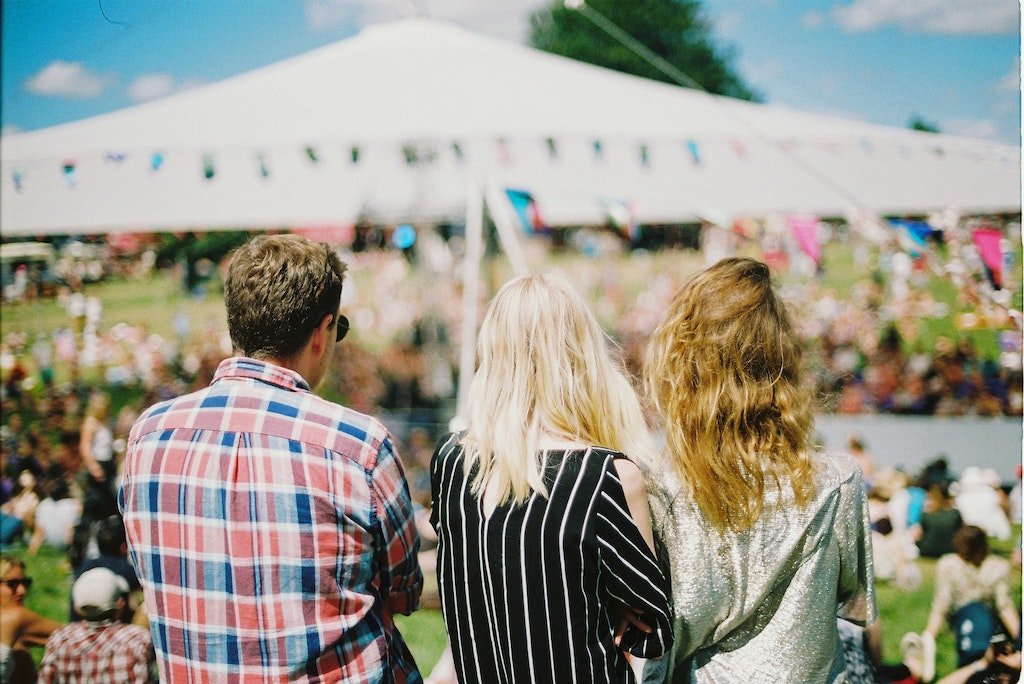 Festival Insurance
Spring and summer are exciting times for outdoor events and festivals. The weather is warming up and people are anxious to get out of the house to enjoy the warmth and fresh air. Unfortunately, all of those plans can be washed away in an instant when bad weather strikes. 
That potential for inclement weather can make planning an outdoor event a major headache, especially if you don't have the right kind of event or festival insurance. At Vortex Weather Insurance, we help provide a financial safety net for your festival with rain insurance, so your potential profits don't get washed away in the rain. 
Read on to learn more about rain insurance and how it should fit into your outdoor event or festival insurance plans. 
Why rain insurance should be part of your outdoor event or festival planning 
Before we talk about how rain insurance fits into your outdoor event and festival planning, let's go over what exactly rain insurance is and how Vortex can customize your plans to your specific needs.
What is rain insurance?
Rain insurance helps mitigate potential losses incurred due to inclement weather that may result in low or no attendance at your event. A rain insurance claim occurs simply when recorded rainfall by a verifiable independent and localized source meets or exceeds the predetermined threshold during the risk period. 
One less thing to worry about
You have enough to worry about when planning an outdoor event. Vortex Weather Insurance is a weather insurtech company you can trust to deliver accurate policy determinations. When rainfall keeps participants home, but event cancellation isn't necessary, rain insurance can help ease the impact of lost revenue. Plus, claim payments are quick (typically mailed in less than two weeks) and offer immediate financial relief.
No cancellation required
A common misconception our potential clients have about rain insurance is that an event has to be canceled to be eligible for a claim. While this is true for cancellation insurance, it simply isn't true with a parametric rain insurance policy. Precipitation can trigger a claim if the conditions of a policy are met, regardless of whether your event still takes place.
How rain is measured
At Vortex, we refer to hyper-localized precipitation data from the National Oceanic and Atmospheric Administration (NOAA) and entities such as the National Weather Service. These measurements accurately and quickly register precipitation in 2.5 mile x 2.5 mile grids.We also accept measurements made by qualified independent weather observers. 
Some other rain insurance policies use more generalized data, typically measured at airports or in one centralized location. However, Vortex ensures that our data applies specifically to your location. That's why our policies should be an integral part of your outdoor event or festival insurance plans. 
Types of events that need rain insurance
Essentially, any kind of outdoor event or festival is vulnerable to inclement weather. Our rain insurance policies are great for a variety of events, such as:
Music festivals and outdoor concerts

Food and drink festivals

Outdoor vendor fairs like art and craft shows or farmers markets
How we craft your policy
Creating the perfect policy for your outdoor event or festival insurance is all about customizing three fields: your location, your time frame, and your rainfall threshold. 
Your location
Our rain insurance policies use hyper-localized data from trusted sources to make sure we're honestly representing the precipitation total at your event. Simply tell us your exact location, and we make sure the data we use accurately reflects the rainfall at your event. 
Your time frame
Oftentimes, rain won't impact your outdoor event or festival all day. With our highly customizable policy options, you can select the window of time you need rain insurance for your event or festival. This window can be the hours that include your entire event, the event's most profitable hours, the hours leading up to your event, or any combination that best fits your needs. 
Your rainfall threshold
Not only can you choose what hours, or even days, you want your outdoor event or festival insurance, you can also pick the exact rain threshold that triggers your policy return. Even light rain can have a significant impact on your profit margins, so we can help you decide which rain threshold makes the most sense for your needs. 
Here are some commonly requested rain thresholds we see for outdoor event and festival insurance:
Light rain (.10-.25 inches of rain)

Moderate rain (.25-.5 inches of rain)

Heavy rain (.5+ inches of rain)
What does rain insurance do for my specific event?
As we've laid out, rain insurance is an important part of your outdoor event or festival insurance plan. But every event type is unique and brings in revenue differently. Here are some specifics on how rain insurance can help mitigate potential profit loss for different events. 
Depending on the level of music festival or outdoor concert you're planning, most of your ticket sales likely come before the event takes place. For bigger outdoor concerts or music festivals, the event may sell out months in advance.
For outdoor concerts and music festivals, your highest potential for loss comes during the event itself, rather than from walk-up traffic and ticket sales. For these kinds of events, we often recommend selecting your rain insurance window for hours when shows could be delayed or even canceled. This helps mitigate potential losses from food and beverage sales, vendor cancellations, or even artist cancellations. 
Unlike music festivals and outdoor concerts, an outdoor food and beverage festival relies mostly on day-of sales. Your event might sell tickets in advance, but even in those cases, the whole point of the event is to bring people in and have them spend money on the event day. 
These kinds of festivals are particularly vulnerable to inclement weather, because they are so reliant on day-of sales. With rain insurance for food and beverage festivals, you can mitigate potential losses from low attendance. If you offer blanket rain insurance for your event, you can even encourage a better set of vendors to attend. 
Frequently asked questions about rain insurance
We understand that not everyone knows the ins and outs of rain insurance like our experienced agents. Here are answers to some of our most frequently asked questions, but for more personalized answers to your questions, feel free to contact us about your specific event or festival insurance. 
How much does rain insurance cost?
Weather insurance premiums are based on the probability of occurrence and are determined using historical weather data. Variances in geography, time of day, time of year, and amount of historical data available all play a role in determining the premium amount under any weather insurance policy. Policies can even be as low as a few hundred dollars.  
How far in advance should I purchase weather insurance for my event?
You can purchase your policy as far ahead as 2 years before your scheduled event. However, you must purchase a policy no later than 15 days before your event. We recommend that you purchase your policy as soon as possible. Basically, as soon as you decide on a location, a day, and a time, you have the information you need to calculate your rain insurance cost!
What are other weather factors to consider when planning an outdoor event?
One thing we often remind clients planning for outdoor event or festival insurance is to know the type of ground where their event will take place, because that can make a significant difference in how rain affects your event. Rainfall impacts pavement, gravel, grass, and dirt in very different ways. 
If you know that the area where you're holding your event is susceptible to flooding, even a little rain could be potentially hazardous for your event and your revenue. Understanding the little nuances of your location, like the drainage in the area or how quickly rain evaporates in your area, are important factors to consider when planning for rain insurance. 
What data do you use to craft policies?
Long-term historical data is used to craft data-specific weather insurance policies and determine premiums. Even if your business or event has not experienced extreme weather conditions in the past, others in the area may have. This history can categorize an area as high-risk and result in higher premiums for policyholders. 
We strive for transparency with our customers and explain specifics in historical weather patterns, events, and other risks we consider when determining rain insurance cost.
Let Vortex worry about the weather
You have enough to worry about when planning your outdoor event or festival. Insurance shouldn't be one of those worries. When you work with Vortex Weather Insurance, we've got your back for all rainfall-related concerns. 
It's easy to get caught off guard by the weather, so planning for every eventuality gives you peace of mind. Find out more about our weather insurance policies by using our virtual cost analysis tool, or contact us and we can assist you with anything you may need.
Call us today for a free quote
(866) 997-2469