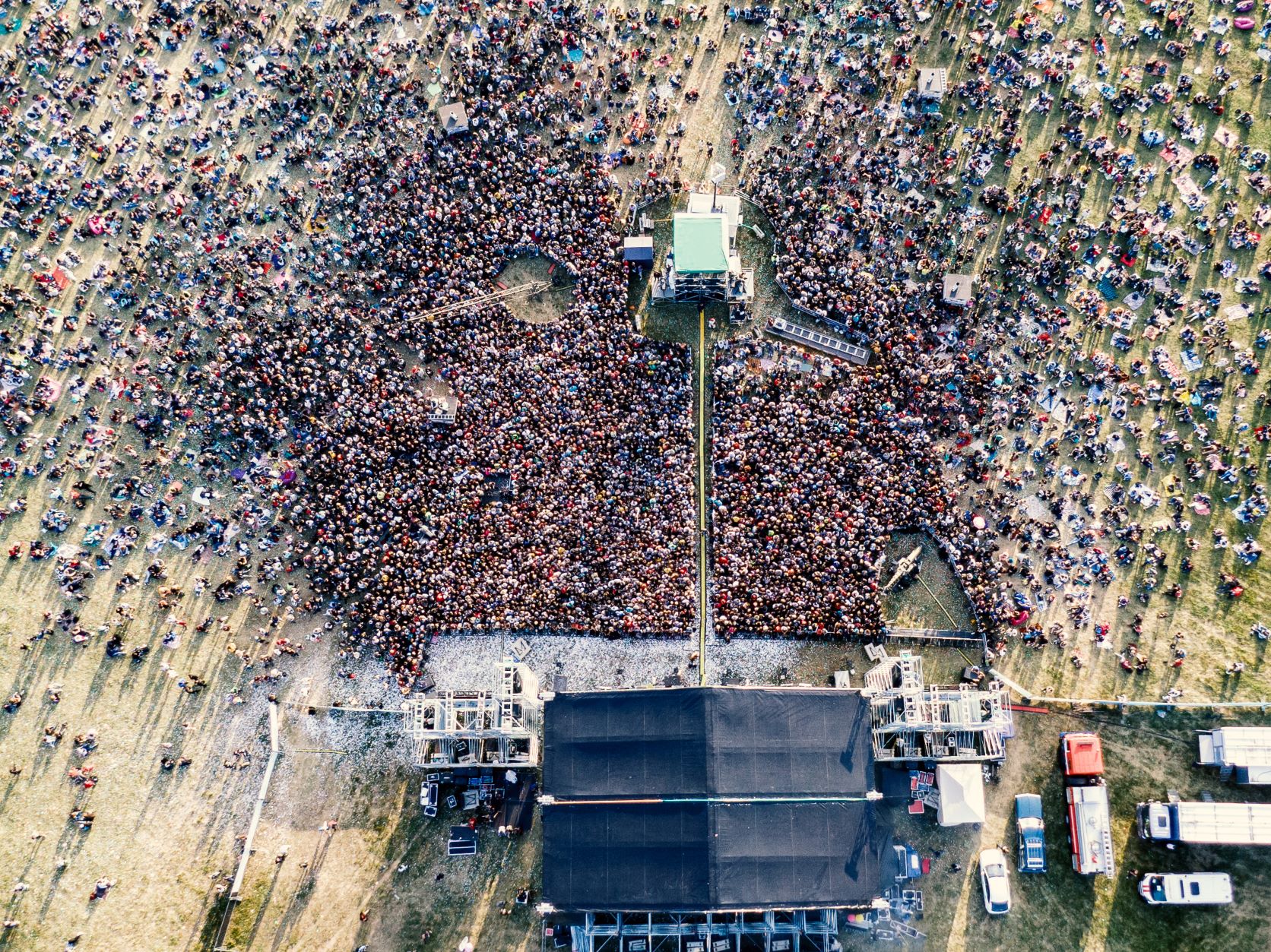 Rain insurance and cancellation insurance might seem similar, but they're used in different ways. So what is the difference between rain insurance and cancellation insurance? Each uses different factors to determine payout eligibility. Whereas cancellation insurance requires complete cancellation of your event, rain insurance simply pays if a certain amount of precipitation occurs within a certain timeframe. You don't have to cancel your event to receive a payment. At Vortex Weather Insurance, we provide weather insurtech solutions for events across the country!
Keep reading to learn more about what the difference is between rain insurance and cancellation insurance, or get in touch with us to talk about what kind of insurance your event needs.
What is Cancellation Insurance?
Event cancellation insurance is a policy that can help defend your revenue and expenses incurred by the cancellation or rescheduling of an event. Many policies also provide for extra expenses that may come about, including necessary expenses to continue the normal operations of an event despite some peril. Event cancellation insurance is generally triggered if an event is cancelled, postponed, or otherwise adversely affected by a "covered event."
Covered events
A covered event is defined in the purchased policy and often extends to circumstances beyond the control of the event organizer, including those that result from a civil order. Typical policy language provides that the insurer will pay the policyholder for their losses because of the cancellation, abandonment, rescheduling, or relocation of the insured event. Policies stipulate that only certain causes or risks will activate the policy. 
What is Rain Insurance?
Rain can spell disaster for an outdoor event. Trying to predict it can be challenging. That doesn't mean your event can't be ready, rain or shine, though. As a leading weather insurtech company, Vortex Weather Insurance doesn't take a casual approach to precipitation, or your outdoor gathering. So when learning about the differences between rain insurance and cancellation insurance, there are a few things you should know about rain insurance's advantages.
Rain Doesn't Have to Add Worry
You have enough to worry about when planning an outdoor event. We can handle worrying about the weather. Vortex Weather Insurance is a weather insurtech company you can trust to deliver accurate policy determinations. From PGA and Little League tournaments to motor sport events and music festivals, we provide assurance that your careful planning won't wash away in a storm. Rain doesn't even have to completely stop your event to pay out, the policy conditions simply have to be met.
Data-Driven Insurance
Using advanced technology, Vortex accurately and quickly registers precipitation using a national grid that measures rainfall in 2.5 mile x 2.5 mile grids. You don't need proof of loss with rain insurance. When the defined rainfall amount is recorded during the specified time, your claim is activated.
Preliminary rainfall amounts are recorded for Stage Gridded Data and available typically within 1 day of the time defined in your policy. Preliminary rainfall recordings are reviewed and finalized 7 business days after the occurrence. The River Forecast Centers (RFC) handles all data. This 7 day trailing period provides us with the most accurate data possible.
What is the Difference Between Rain Insurance and Cancellation Insurance?
Rain insurance and cancellation insurance can both help you prepare for uncertainties that may come your way during the organization and execution of your outdoor event. The key difference between the two is that, with rain insurance, your event doesn't have to be canceled to activate your policy and pay out. You simply have to meet the precipitation threshold during the hours reflected in your policy. 
If you're planning an outdoor event, you need a plan for the unpredictable. 
Choose the Right Insurance for Your Event
The right policy for your event depends on many different variables. The type of event, time of year, and the expenditures that will happen before the ticket line opens will all play a factor. If your event takes place outside, weather insurance from Vortex can add extra protection beyond what cancellation insurance can offer. 
If your event gets hit with inclement weather but you are able to continue, your cancellation policy may not trigger a claim. With weather insurance, though, you're prepared for precipitation that may affect your overall event results. Weather insurance still pays out even if your event continues, albeit with lower attendance. 
Frequently Asked Questions About Rain Insurance
How is precipitation measured?
To determine the precipitation during the hours of your policy, we refer to the National Oceanic and Atmospheric Administration (NOAA) and entities such as the National Weather Service. Additionally, we also use measurements made by qualified independent weather observers as well.
When is weather determination data available?
Depending on which measurement method is used, weather data can be determined in as little as one day to a little over a week.
How do I make a claim? Do I need to fill out claim paperwork?
To begin the claim process, if you believe there has been a weather event that meets your policy, call us at (913) 253-1215 within 30 days after your agreed upon time period in your policy. The process is fast and easy. 
There are no forms you'll have to file or any extended waiting period. Once you report the loss, claim payment will be determined using National Weather Service data or approved independent weather data as stated in your policy. With Vortex's insurtech, it's just that simple.
Listen to Eric Anderson, Director of National Sales for Golf, discuss Vortex's claims process.
How soon will I receive payment if there is a covered claim?
Once your policy conditions are determined to have met the threshold stated during the stipulated time and you've called and made your claim, you're set to receive your payout. Payments are mailed out, normally within 2 weeks, and no later than 30 days after the necessary supporting weather data is received and processed.
What are some examples of businesses who use weather insurance?
Vortex Weather Insurance creates policies for just about every type of outdoor event imaginable. If it's outside and there is a crowd, we've insured that type of event. We insure events like, 
Fairs 

Festivals 

Concerts 

Races

Golf events 

Other sporting events  
We don't stop there, though. If you're a restaurant, retailer, or other business with financial interests outdoors in need of help insuring anything that adverse weather could affect, Vortex Weather Insurance is insurtech you can depend on. That is the main difference between rain insurance and cancellation insurance, your business can still proceed.
Can catastrophic events like tornadoes or hurricanes be insured?
Currently, we do not offer insurance for catastrophic events such as hurricanes, tornadoes, or similar events. Although precipitation from a tornadic storm or hurricane can trigger a rain insurance policy.
What types of weather can be insured?
Vortex Weather Insurance provides policies for precipitation and temperature related events. If it rains or snows too much or too little, we can help. If it gets too hot or too cold, we'll be there. For combinations of these events, we've got that as well.
How far in advance do I have to purchase weather insurance?
To add a policy for an event, you must purchase your policy 15 days or more before the event's date or the first day you wish to insure.
When should I buy rain insurance?
You can purchase your policy as far in advance as 2 years before your scheduled event. Again, remember it must be at least 15 days before your event. We recommend that you purchase your policy when you begin putting down deposits for your event's necessities. This way you can have financial peace of mind that your investment won't get washed away in the rain. 
Can more than one weather peril be insured in a policy?
As previously mentioned, yes, you can combine policy tools such as insurance against rainfall and excessive heat. 
You can go the opposite way as well. If your event needs cold temperatures and snow, we can help there as well! Plus, you can choose to utilize both rain insurance and cancellation insurance if you'd like. The two aren't mutually exclusive.
How do I decide what hours to cover?
When you plan your policy, you will want to determine when adverse weather will have the most negative effect on your business. This might be for just a few hours, an entire day, or for multiple days. Think of when your event will be most vulnerable to financial loss.
How much does weather insurance cost?
At Vortex Weather Insurance, we base our premiums on the probability of a weather event occurring. We do this by using historical weather data. Variances in geography, time of day, time of year, and how much historical data is available all factor into determining the cost basis of a weather insurance policy.
I am an individual. Can I buy weather insurance?
Unfortunately, our products are only available for businesses, government entities, or non-profit organizations and are not available to individuals at this time.
How long can my weather insurance policy last?
Every business has different needs. Because of this, we offer policies for as little as a couple of hours and up to an entire year!
Next on the blog: Organizing a Successful Motor Sport Event: 3 P's to Win the Race
Contact Vortex for Comprehensive Weather Insurance!
At Vortex Weather Insurance, we know there is a lot that goes into planning an event and running a business out in the elements. Unexpected weather can pop up out of nowhere. When you're planning an outdoor event like a golf tournament, racing event, or music festival, weather insurance is worth considering.
Get started with our virtual cost analysis tool or, if you prefer, give us a call or send a message and we can assist you in getting a quote. Our process is quick and easy!
Call us today for a free quote