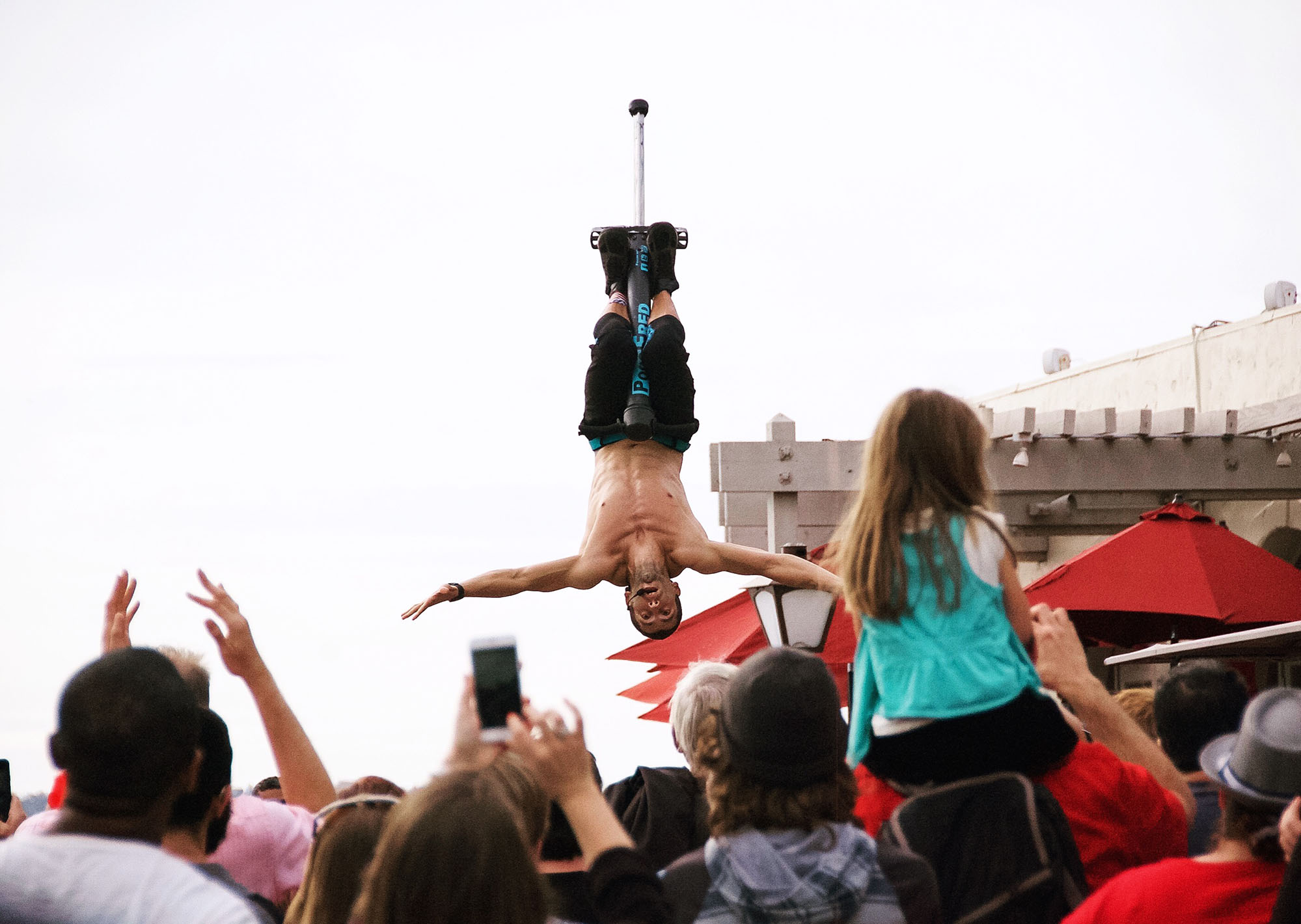 Pogo Fred Has a Passion for High-Flying Pogo Sticking
An 8-year-old boy growing up "in the middle of nowhere Ohio" gets a pogo stick and a unicycle for Christmas. He tries the unicycle, but he can't get the hang of it.
But the pogo stick? The pogo stick becomes his life.
He was 9 or 10 when he saw Tony Hawk do "crazy" tricks on his skateboard.
"I thought, I can do that on my pogo stick." With that, Pogo Fred was born.
By the time Pogo Fred was 15 or 16, he was getting paid to do tricks on his pogo stick.
"The first high-performance pogo stick came out in 2004," Fred says. "(Pogo stick maker) Flybar needed a demo guy, and at the time I was the best. They started sending me to events for them. Through that I did an event and I saw a street performer, and I thought that I could do that. Pogo sticking can be my job."
Fred has been flying high on his pogo stick ever since.
Taking pogo sticking to the extreme
Since the advent of that first high-performance pogo stick, Pogo Fred has been one of the icons of extreme pogo sticking.
He remembers the first Pogopalooza when he and six other extreme pogo stickers met in a parking lot in Lincoln, Nebraska, to compete against each other. That's a far cry from where the sport is now. This year's Pogopalooza takes place in Pittsburgh, Pennsylvania, and will feature 20 to 30 of the sport's best athletes.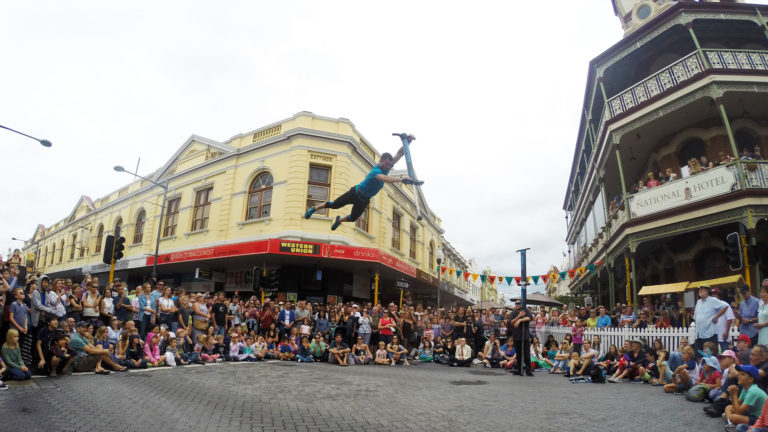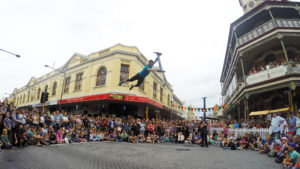 Taking it to the streets
While Pogo Fred has performed on high-profile shows like The Ellen Show and America's Got Talent, street festivals like the Busker Festival in Lawrence, Kansas, are an important part of his career. And it's harder than it looks to get those street shows right.
"It's a lot of hard work on the back end," Pogo Fred says. "A lot of people look at just the show, but in that show is years and years of practice/training and failed ideas. It's all unpaid work. Whatever the skill is, we're all (other buskers) spending hours and hours unpaid to master this craft. One of the hardest parts is displaying that craft in an entertaining way."
Understanding your audience and figuring out what works is a trial-and-error process.
"I've been doing shows forever now. If you have a new idea, you sandwich it between two things you know work. You put things in one at a time. You get other performers' feedback."
But all that work pays off at street festivals.
"Just getting people there to see your craft and giving you contributions for that, it's amazing," he says. "The crowds at buskerfest are amazing. There's nothing like the energy and vibe of a buskerfest audience."
When it comes to street festivals, the Lawrence Busker Festival is on Pogo Fred's list of favorites.
"It's definitely the best busker festival in the states," he says. "The audiences are super amazing, super generous. This is my eighth or ninth time. I keep coming back because it's just very, very enjoyable."
And Pogo Fred will be back again for the Memorial Day weekend festival this year with Vortex Weather Insurance as the sponsor of his act.
Taking it on the chin
To keep his act fresh, Pogo Fred is always working on new tricks and trying to push the envelope of extreme pogo sticking. That's resulted in a few broken bones.
Now, at 33, he's a little more careful learning new tricks than he was as a 10-year-old on his driveway in Ohio.
"I've gotten smarter as I've gotten older," he says. "I've converted my yard into a training space. Gymnastics mat, foam pit. You find a soft surface and build it up from there. We use a pogo frame and a trampoline, so we can try tricks on the trampoline first."
Despite the perils, Pogo Fred loves what he does and the fact it has given him the opportunity to break more than 20 Guinness World Records while traveling the world doing what he loves.
One of the highlights of his career was touring with Nitro Circus.
"I was on their first live tour," he says. "Nitro Circus is probably the best action sports show. They literally just invited the best of the best extreme sport athletes to try out this tour, and they invited me to be a part of it."
He also has fond memories of being featured in a Nike commercial that ran during the 2012 London Olympics coverage.
Taking extreme pogo sticking to the world
One of Pogo Fred's missions is to encourage others to take up the sport, which he says is easier now than it has ever been.
"There's tons of videos online," he says. "Get a pogo stick and start practicing. It's a lot easier to get into pogo sticking now than it was 15 years ago."
He encourages those interested in extreme pogo sticking to check out the pogo stick community at allpogo.com, which offers a trick inventory by difficulty level.
"Everyone in the pogo community pretty much knows everyone," he says. "We're happy to help and give advice."
And if you're not sure about pogo sticking, head out to Lawrence, Kansas, during Memorial Day weekend and get some encouragement from Pogo Fred himself.
You just might discover the same thing Pogo Fred learned that Christmas when he was 8.
"I couldn't unicycle, but I could pogo stick. So, I guess it became inevitable I would run away and join the circus."