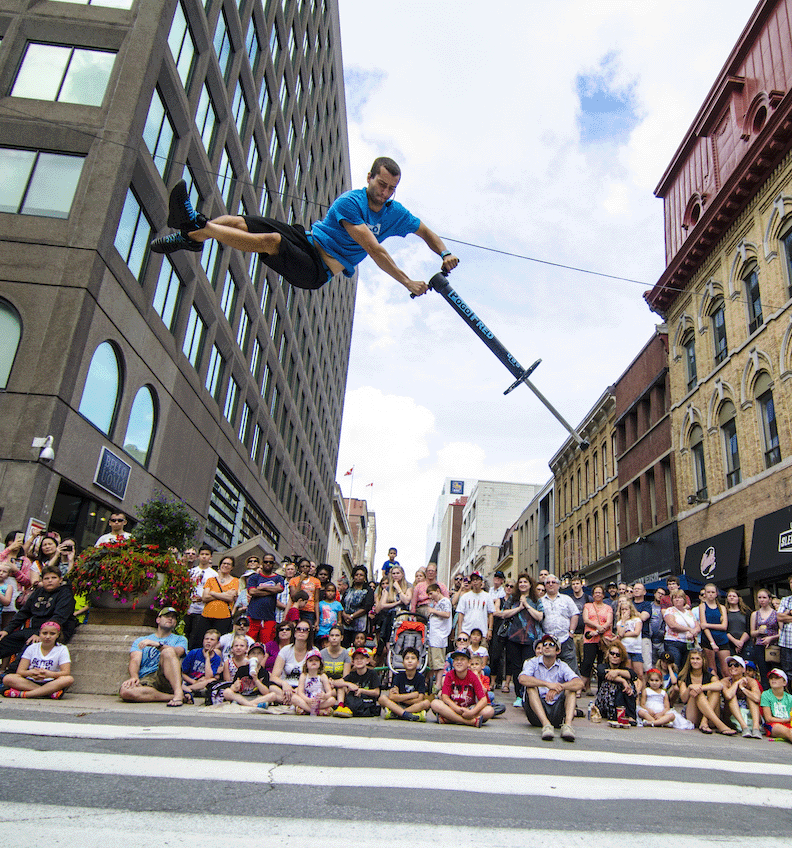 A daredevil on a pogo stick. A strongwoman with a "You can do it!" message. A unicycling unicorn.
Sounds like a cross between the circus and a fantasy novel. But it's not.
You can see all of that and more at unique and local festivals such as the Lawrence Buskerfest in Lawrence, Kansas, an annual free festival that features street performers, food and vendors.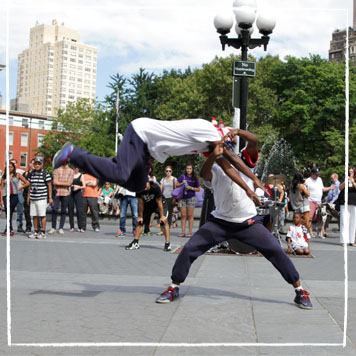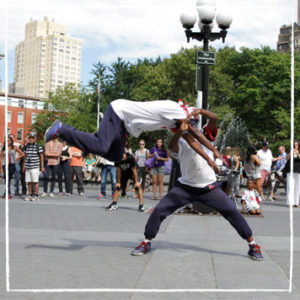 Buskerfest is a four-day festival in downtown Lawrence (home of the University of Kansas) held every Memorial Day weekend. It's called Buskerfest because a busker is another name for a street performer.
Each year, the festival features dozens of performers on five different stages lining the streets of downtown Lawrence. The festival is free to the public, but in the age-old tradition of buskers, the performers will pass the hat after their performances.
"We're in our fifteenth year," says Richard Renner, founder of Buskerfest. "It started during the economic downturn of 2008."
With the downturn, a lot of jobs for performers like Renner dried up, leaving him with plenty of time on his hands.
"I'd just moved to Lawrence and walking downtown, I realized that Lawrence with its downtown was the perfect place for a busker festival," Renner says. "I thought, 'we can do this here.' I walked over to the Lawrence Downtown Inc. office and told them my idea, and they gave me $2,000 and we put on a festival."
Since then, the festival has grown each year, adding performers and expanding from three days to four. In the past, Buskerfest has drawn around 20,000 people to the streets of Lawrence over three days.
County fair or state fair? Yes, there is a difference
When you hear the term street performer, you might be thinking of someone playing a trumpet in the subway for a few bucks, but Renner says that's a misconception. Busking has a rich heritage going back centuries.
"People often think of these people as vagabonds and panhandlers, but these are highly trained athletes," Renner says. One of this year's performers, Pogo Fred, holds 14 Guinness World Records.
And it takes talent to make a career out of busking.
"Seeing the size of crowds they get, and the money they get from that crowd, there's a real skill to it," Renner says.
Renner points to an article about a 2007 experiment when world-renowned violinist Joshua Bell played violin in a New York subway station to see if people recognized fine art. Most people passed by without stopping.
"The point of the article was that no one appreciated fine art when they saw it," Renner says. "My takeaway from that article was that Joshua Bell didn't know how to work the crowd because I've seen people with far less talent make more money."
This year's Buskerfest features something for everyone. From an edgy comedian, to musicians, to break dancers, to stunts on a pogo stick, the family-friendly festival offers up entertainment to meet nearly every taste.
Some of the most unique fairs and festivals
How is Vortex involved?
Vortex does a lot of business with fairs and festivals and wanted to get involved with a local festival. Lawrence is in our backyard, and Buskerfest is a fun, family-friendly way to spend a holiday weekend, making it a perfect fit for us.
We're super excited to be sponsoring Pogo Fred, who bills himself as stunt pogo entertainment. You know that pogo stick you were always falling off of as a kid? Pogo Fred is a master.
"Fred's basically a trampoline act on a pogo stick," Renner says.
Besides holding multiple Guinness World Records, Pogo Fred performs gravity-defying stunts in a show that is sure to entertain everyone in the family.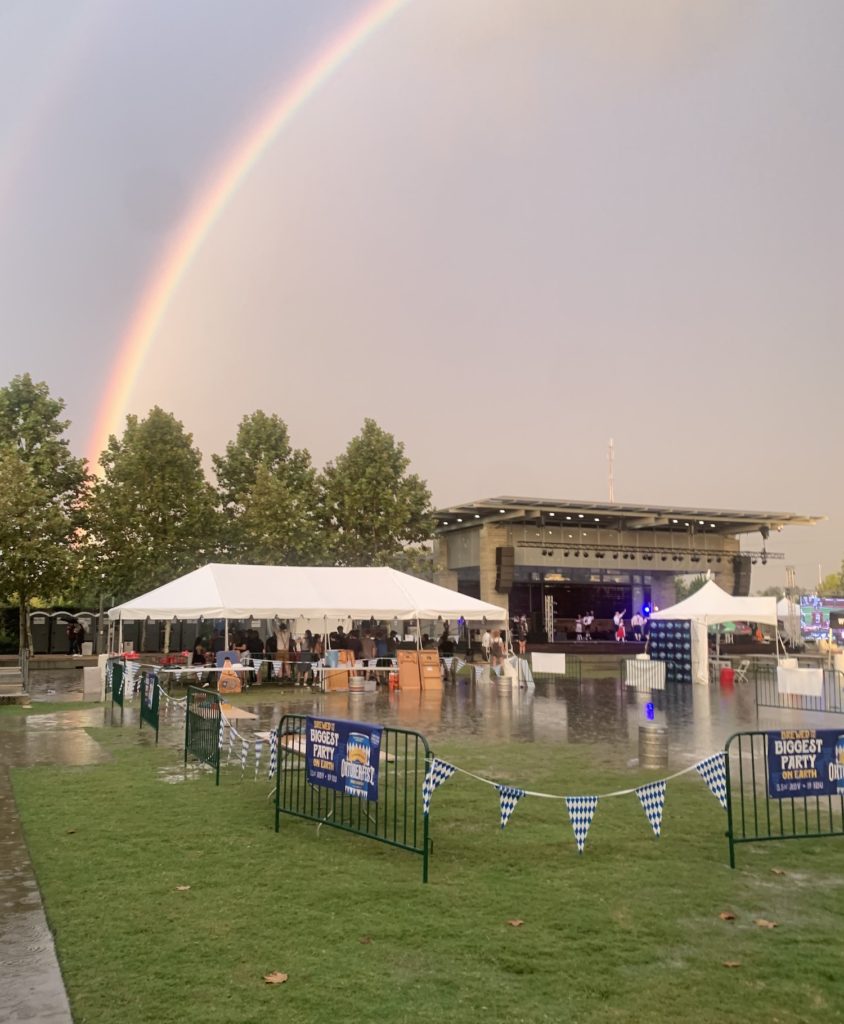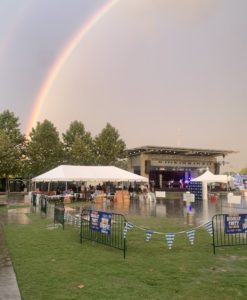 What happens if it rains?
As with any outdoor festival, rain is always a threat for Buskerfest. When the event began, it took place in August, but August in Kansas is really hot.
"We moved to Memorial Day, but there's a greater risk of rain," Renner says.
With rain comes smaller crowds, which means the buskers will take home less money. And some of those performers have traveled a long way to come to Lawrence.
"I do get lots of solicitations from all over the world wanting to come here," Renner says. A rainout can be devastating to a busker's business.
Renner has a simple outlook on rain. "If it's going to rain, we let it."
But that doesn't mean he's not prepared for rain. Renner wants to protect the festival revenue and make coming to Lawrence a worthwhile trip for his buskers – rain or shine. That's why he's a fan of rain insurance.
"What it does is that it takes the tension out of the air," he says. "You can have the best marketing plan and the best shows in the world but it's always going to come down to the weather. This is a way of controlling the weather."
Rain or shine, Pogo Fred and other buskers will be hustling in the streets of Lawrence Memorial Day weekend, bringing entertainment and smiles to attendees and carrying on a centuries-old tradition.