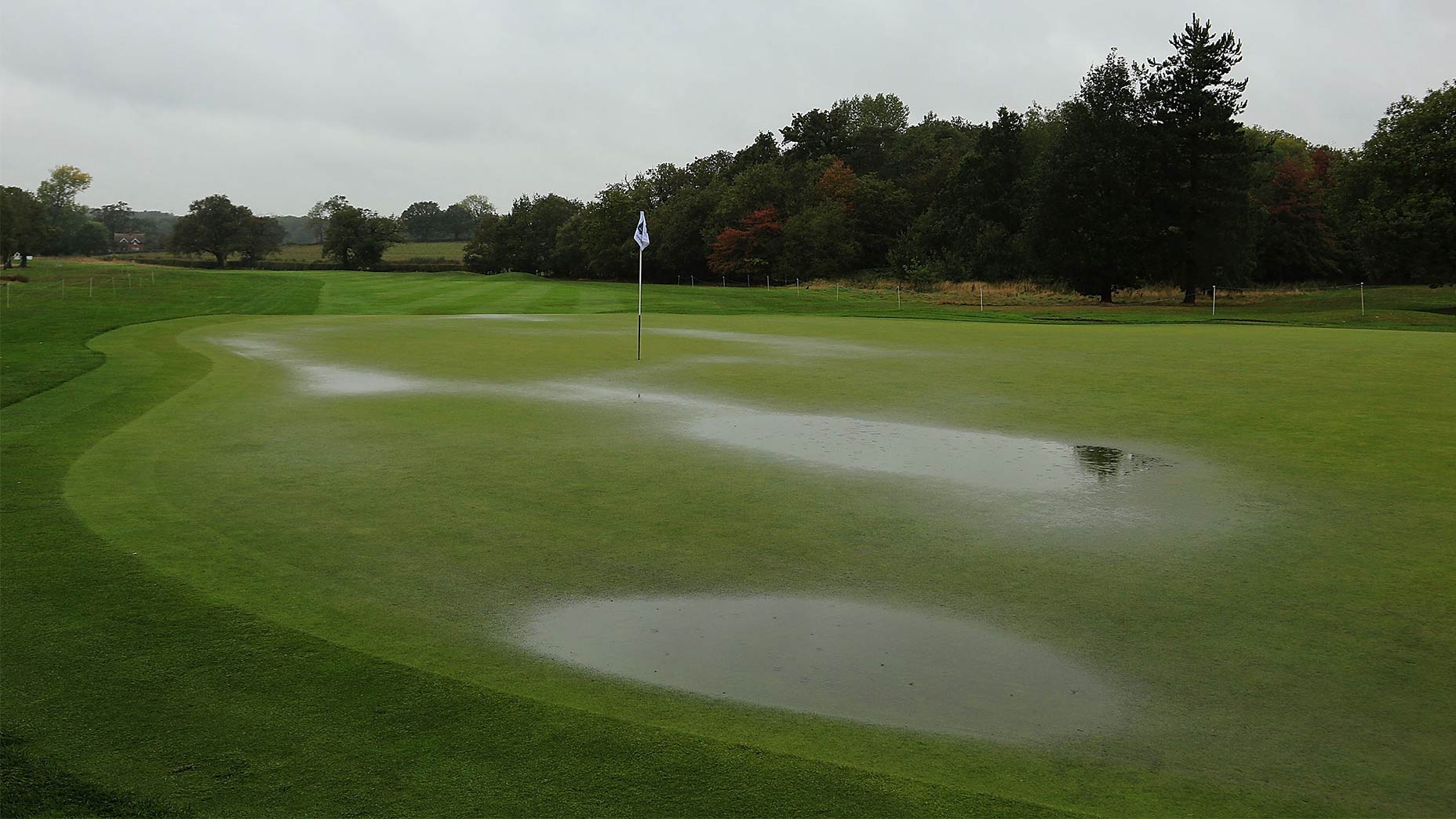 Make Sure Your Tournament is Ready for Inclement Weather
While a little rain may not ruin your golf event, an afternoon downpour will likely stop play for the day. So, what happens when a golf tournament gets rained out? 
Whether it's a brief pause in play for a passing storm or the whole day is a loss, you need to be prepared. A couple of strategies that can be beneficial for tournament organizers are to plan for shelter and additional entertainment for your golf event. 
Shelter 
Planning ahead and having shelter available can be a positive addition to your golf tournament, even if it doesn't storm. Having shelter to store concessions and providing a place to get out of the sun or worse, a sudden thunderstorm is something that your attendees will truly appreciate. With a place to get out of the elements, guests are more likely to stay at the tournament longer.
Entertainment
A great addition to a golf tournament is extra entertainment. Attractions like performers or special guests, raffles, and live music may help attract people who wouldn't have attended a golf tournament otherwise. Having options like this can also be a way to encourage attendees to stick around during a rain delay or cancellation.
Weather Insurance
Something to consider when planning your tournament is to insure it with weather insurance. This helps with expenses if inclement weather causes delay or cancellation. Weather insurance is insurance to help protect against potential losses caused by rain, hail, or snow. If it rains the predetermined amount or more set in your policy, you receive a full payout. 
You know what your bottom-line expenditures will be no matter what happens on the event day. With weather insurance, you can have those costs insured based on the amount of rain that may occur. You can insure more than your bottomline too, if you wish. We can insure any amount you want. Through an advanced weather insurance pricing tool, we at Vortex Insurance can quickly provide quotes tailored specifically to your tournament's location.
The weather insurance claims process is easy, too. When you meet or exceed the precipitation threshold of the policy you purchased, your policy pays out in full for the amount of insurance that was purchased. If you're planning something with as many moving parts as a golf tournament, the last thing you want to worry about is watching months of planning get washed out by rain.
Contact Vortex for Comprehensive Weather Insurance
You never know how a golf tournament will play out, and that's especially true for the weather. Unexpected weather can pop up out of nowhere. When you're planning an outdoor event like a golf tournament, weather insurance is worth considering.
Get in touch with us and let us get you a quote. It's easy and fast. Reach out and see what we can do for you.
Call us today for a free quote 
(203) 550-6150