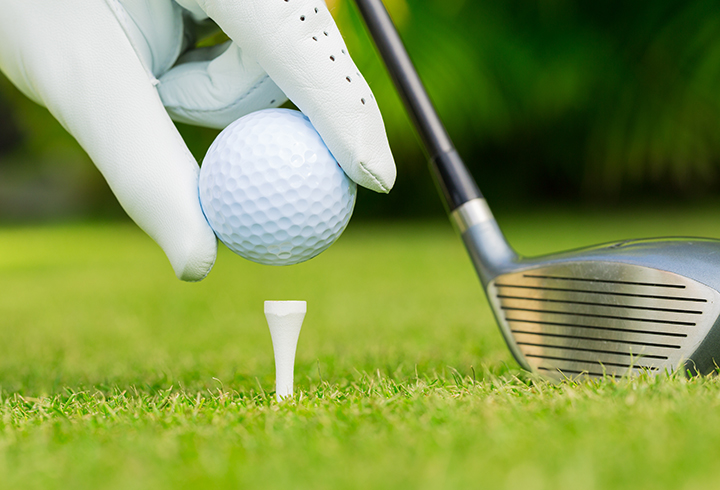 Vortex Weather Insurance helps events of all types and sizes protect their hard work from the fiscal damage weather can cause. One of our favorite event creators to partner with? Golf! 
From golf tournaments and exhibitions to pro-ams and corporate outings, we work with organizers to build policy options specific to their coverage needs and weather risks.
You won't find a bigger fan of golf than our Director of National Sales for Golf, Eric Anderson. His history gives him unique insights into the game itself, how weather affects golfing, and what makes swinging a club so darn fun! Read on to learn more about his connection to "the game of kings," and his top 5 benefits of playing golf.
Eric Anderson, Golfer
Eric played golf early in his life, excelling as he hit high school. He doesn't really like to talk about how long ago that was (hint: the top song when he graduated was "End of the Road" by Boyz II Men, if that tells you anything), but he'll gladly share with you the fun he had playing, and the doors that his golfing skills opened for him.
After graduation, Eric went on to play golf for Augusta University. While there, he worked for Augusta's famous golf course (Home of The Masters), and caddied before turning professional after college. Working in the pro shop, and picking up every tip he could from the global golf titans who frequented those famous 18 was an education within itself..  
During this time Eric competed in his own pro/pro-am golfing career. This included competing in pro tournaments on mini-tours of the Southeast. One of his personal benefits of playing golf is the education he received from rubbing elbows with great golfers.
A Career Never Far from the Greens
Eric knew early on that investing in business, and people, brought success. His natural sales abilities, mixed with an eye for growth opportunities, moved his career forward as a broker in weather derivatives markets for the next two decades.
Don't kid yourself—his golf clubs went wherever he did. They say a lot of business is done out on the course. They're not wrong. He'll share more on that shortly.
Related: options for golf tournament weather insurance.
The Vortex Connection: Sharing the Love for Golf & Weather
In 2019 Eric joined Vortex Weather Insurance as National Director of Sales for Golf. He brought with him that passion for the game, and a drive to deliver weather-based insights to protect the people behind the game he loves.
Today he moves Vortex Weather Insurance forward as a leader in the field, and a partner with golf events and tournaments. The work keeps him busy, along with his four children (two daughters and identical twin sons) and his dog. 
When not working with clients, giving seminars and interviews, or upping his game on the golf course, you can find Eric cheering on his Philadelphia hometown sports teams or enjoying life on the beach with his family.
One of the Benefits of Playing Golf: Fundraisers and Charity Tournaments
Speaking of family, we're proud to help fundraisers and charity golf tournaments protect against lost revenue when the weather is less than charitable.
Currently these smaller events number around 350,000 per year, and that number is growing. Most of the smaller events average around $5,000 dollars in contribution after expenses. Larger events raise $250,000 or more. 
When U.S. fundraising golf tournament donations are all tolled, these events generate over $4 BILLION dollars annually. Obviously a lot is at stake for the fund recipients. We work hard to help organizers protect their investment and that important donation money. 
Golf events generate revenue for many people & businesses.
Another reason we love golf: everyone wins. Many industries benefit from golf events.
Play-Related Revenue: 
Tournaments

Pro-ams

Member/guest events

Corporate outings

Fundraisers
Food/Beverage & Merchandise Revenue:
Tournament organizers

Branded merchandise

Demo days

Outdoor weddings/receptions

Holiday events
For example, the PGA Tour and its tournaments generated $200 million in 2019. And that's just one tour. Golf is great to play, and great for pay!
Eric's Top 5
Benefits of Playing Golf 
If you get into a conversation with Eric about the benefits of playing golf, he'll give you much more than a top 5. However, because we only have so much space in a blog, we've narrowed it down to the ones that get mentioned the most.
Benefit of Playing Golf #5: Recognizing Your Strength
Beauty may be in the eye of the beholder, but playing a good game isn't in the swing of the masters. 
Sure, you can watch every video and invest in time with an expert trying to imitate the swing of your favorite golf superstar. But winners aren't perfect. They just play to their best ability.
That may mean you've got a swing that doesn't make sense to "the pros." However, it'll make perfect sense when you're farther under par than the other players! So don't worry about perfection. Just play.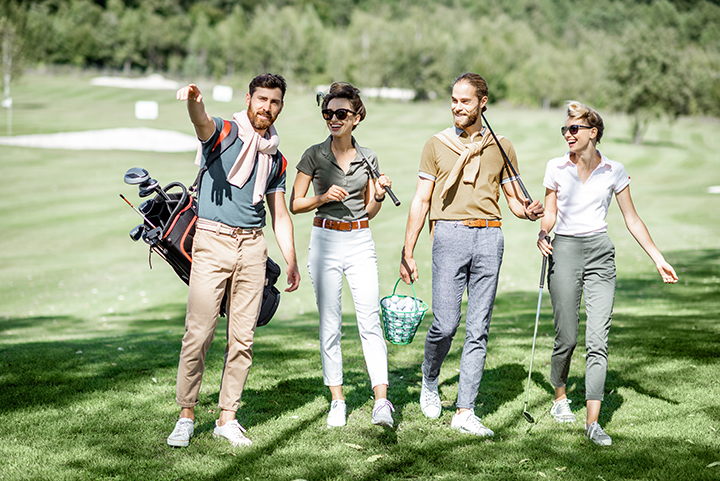 Benefit of Playing Golf #4: Exercise
There's chatter out there that golf isn't a workout. No, you won't get Terminator muscles (at least, not on the greens. Try the clubhouse fitness area!). However, you do get great exercise.
Your core receives a lot of exercise as you carry your bag, walk the course, and twist/turn/lift while swinging the club. 

Need to up your step count? Turn your counter on, because 18 holes is a long walk (up to 4 miles!), with thousands of steps.

You'll work your brain, too. A lot of thinking goes on—how to approach the lie, which club works best, how weather is affecting your ball flight, and a lot of other tangibles that are part of the game. 
Benefit of Playing Golf #3: The Great Outdoors
Sunshine. Fresh air. Beautiful surroundings. A day on the golf course can be good for the soul. There a more than a few benefits of getting outdoors:
More vitamin D

Creative thinking boost

Improves mood/mindset

Helps with sleep
Benefit of Playing Golf #2: Meeting New People 
Golf is a social game at heart. People get together to walk, talk, and share a day doing something fun. It's also a perfect way to network in a relaxing atmosphere, without the name tags and expectations of other networking events.
As you share the love of the game, you'll meet others with that interest. Those conversations can lead to new friendships that last a lifetime. 
Benefit of Playing Golf #1: Having Fun! 
Part science, part art, all fun! We have to remember that even with trophy money riding, or business chatter to conduct, the best reason to play golf is because it's such a great pastime. 
In the end, it's a game. We're taking special sticks and whacking balls into a hole in the ground. It takes skill, it takes practice, but most of all it gives the joy of playing with others in the outdoors. Like your parents used to say, "why don't you go out and play." That's some sage advice right there.
Those may be his top 5 reasons we love golf—but Eric has more reasons to love golf. Many more. Contact us and let Eric know you'd love to "talk golf" with an experienced pro golfer. Just be sure to set aside some time, because Eric will show up for the conversation with his bags packed! PS—ask him about playing with Jack Nicholson #funstory
Related: how parametric weather insurance works.
Vortex Weather Insurance Helps the Game
Golf event organizers must calculate the possible loss if it rains before or during their event. As anyone knows who puts on an outdoor event, the weather can slice right into your profits.
For golf events specifically, air temperature and rainfall affect whether players step up to the tee box on time—or at all. A weather insurance policy through Vortex can minimize Mother Nature's impact on the event's bottom line.
How Vortex Weather Insurance Works
Organizers select the payout limits, rainfall thresholds, and the time span that aligns with the event.

Vortex automatically monitors precipitation data from independent sources for the covered location.

The policy trigger

works

with total transparency, without an adjuster or extra hassle. Simply put, if the independent sources record an amount that meets or exceeds the threshold, the policy pays out

even if the event isn't canceled.
The Science Behind the Policies
Working with data from the National Oceanic and Atmospheric Administration (NOAA), Vortex Weather Insurance calculates rainfall within a 2.5 mile-square grid box of the physical course location.
Event organizers choose the weather risk level, down to 1/10 (.1) inch of rain. 
After the event, Vortex uses National Stage IV gridded data to determine how much measurable rain fell during the policy period.  Our underwriters analyze the recorded data within your localized grid, and if the threshold is met or exceeded, the policy triggers and the claim process goes into effect. 
The science is complicated, but the process is simple, and the security for your revenue allows you to worry less about the weather, and instead enjoy the game. You might say it's one of the top 5 reasons we love doing what we do!
Your Hole-in-One for Weather Insurance
Golf is an unpredictable sport, and so is the weather. Vortex offers our products nationwide and can help protect your business from weather risk any day or any time.
Our process is quick and easy, and working with us is uncomplicated and fast—like the perfect drive from tee to green. Get a free quote online, or call us at 1-203-550-6150.
Don't worry about the weather. Let us, at Vortex Weather Insurance.