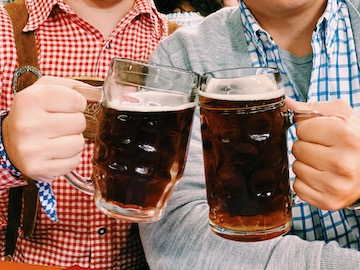 One of the best and most memorable parts of fall is enjoying the last outdoor celebrations before the cold weather comes in. Oktoberfest in particular is a popular festival that happens every September into early October. It's a great time to enjoy German biergarten culture, which typically means enjoying a pint (or several) outside among the distinctive sounds of Bavarian music.
In the midst of Oktoberfest planning, as an event organizer, you want to be prepared for all possibilities to throw a successful event. Rainfall during your Oktoberfest can significantly impact attendance, causing financial losses and increased expenses. 
With Vortex Weather Insurance, you can minimize your losses with a customized rain insurance policy built for your event! We offer rain insurance nationwide and can help protect your fall attraction from weather risk any time and at nearly any budget.
Why you need weather insurance for your seasonal event
We know that weather insurance isn't typically the first thing on your mind when it comes to all the things that go into successful Oktoberfest planning. However, it should be!
The reality is, rain will reduce attendance at your event. With limited calendar dates available, especially for an event like Oktoberfest, pleasant weather is critical for the financial success of your festival. A rain insurance policy will help protect your potential revenue and your reputation.
When rain reduces attendance it can lead to other losses. With reduced attendance, you might find yourself dealing with:
Ticket refunds

Loss of vendor revenue

Contract cancellations

Venue payment

Employee payment

Loss of performer deposits

Reputation damage
Even if you get to reschedule, you could still be looking at a deficit that's difficult to recover from. In the midst of your Oktoberfest planning, don't neglect this easy support!
How does weather insurance work?
We know that Oktoberfest planning is no easy feat, so we make it easy to create a rain insurance policy for your event.
Step 1: Identify concerns
Get in touch with our team at Vortex Insurance. With our expertise, we can help identify the weather variables that represent the biggest risk at your event.
Step 2: Create a policy
We'll work with you to create an insurance policy based on your needs and budget. All of our policies are 100% data-driven using historical weather information to determine the likelihood of rainfall.
You can use the Vortex Insurance Portal to create an account and get a free quote in minutes!
Step 3: Automatic activation
As soon as your policy is approved and we've received payment, it's set. When you use the portal you can pay online with a credit card, making it even quicker! If rain triggers a claim,  there's no extra paperwork to fill out, either!
Step 4: Get paid fast
With a Vortex rain insurance policy, you are not required to show 'proof of loss' for the insurance to pay a claim. Once the rainfall amount meets or exceeds your policy terms during the risk period, your policy triggers and you can typically expect payment mailed within two weeks. 
Related: Rain Insurance vs Event Insurance
What goes into a weather insurance policy?
At Vortex, we can help protect your seasonal attractions from weather risks any day or time. We keep our process quick, easy, and uncomplicated. 
We're from the Midwest, so we get that trying to predict the weather is nearly impossible. That doesn't mean you can't be prepared.
The most common misconception we hear from event organizers is they believe the event has to be canceled to make a weather insurance claim. This isn't the case! Rain insurance and cancellation insurance are two different tools.
Related: Rained On Vs Rained Out: Protect Your Revenue
Determining your threshold
The key part of your seasonal weather insurance policy is the rain threshold. This is the amount of rain needed to trigger your policy.
We use long-term historical data to craft specific weather insurance policies based on the time of day, time of year, and the location of your event. Our quotes for rain insurance are very customizable. 
When selecting a rain threshold, clients most commonly choose one of the below options:
1/10 (0.10) inch of rain – light rain

3/20 (0.15) inch of rain

1/5 (0.20) inch of rain

1/4 (0.25) inch of rain – moderate rain

1/3 (0.33) inch of rain

1/2 (0.50) inch of rain – heavy rain

3/4 (0.75) inch of rain

1 (1.0) inch of rain
Your event doesn't have to be canceled to receive a payout from rain insurance. So if your event gets rained on but can still continue, that's awesome! You'll still receive your policy payout within about two weeks.
More than that, we can build insurance quotes that offer smaller payouts if there is light rainfall with escalating payouts as the rainfall amounts increase. This way, a policy can still respond, even if there is only a small amount of rain.
How Your Payout Is Determined
Using advanced technology and historical rainfall records, Vortex accurately and quickly registers precipitation using a national grid that measures rainfall in 2.5 mile x 2.5 mile grids. This is a parametric product, which means the losses are predetermined. You will know the payout amount when you purchase your policy. Traditional insurance will send an adjuster and may call out exclusions. Parametric weather insurance doesn't work that way. You don't need proof of loss with parametric rain insurance. When the defined rainfall amount is recorded during the specified time, your claim is activated.
The River Forecast Centers (RFC) handles all data. Preliminary rainfall amounts are recorded through the National Stage IV Gridded Data and are available typically within one day of the time defined in your policy. Then those preliminary rainfall recordings are reviewed and finalized by the National Oceanic Atmospheric Administration seven business days after the occurrence. This seven-day trailing period allows us to provide hyperlocal, accurate data.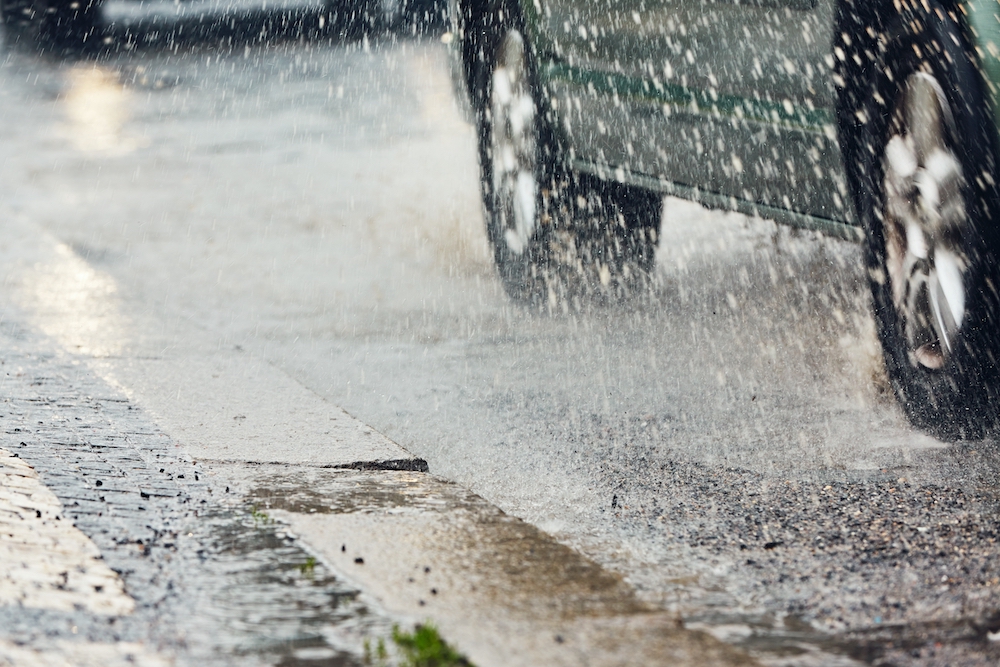 When should I purchase weather insurance for my event?
For annual events like Oktoberfest, it's easy to incorporate acquiring weather insurance as part of your planning process. As soon as you decide on a location, a day, and a time, you have the information you need to calculate your rain insurance cost! 
At Vortex, a policy must be purchased no later than 15 days before the event. You can purchase your policy as far ahead as two years before your scheduled event. 
Types of seasonal attractions that Vortex insures
Seasonal weather insurance is an essential support system for events like Oktoberfest and fall attractions like pumpkin patches and corn mazes. These types of events have a limited window in which to maximize their profits. 
Whether you're planning for Oktoberfest or any number of outdoor events, Vortex Weather Insurance has you covered. We can help you minimize losses due to inclement weather.
These are some of the events we insure every season:
Oktoberfest

Wine/Brew Festivals

Renaissance Fairs

And more!
If you're planning an outdoor event this fall or any time of the year, weather and seasonal event insurance are an absolute must.
Frequently asked questions about weather insurance and Oktoberfest planning
What if my event is several weekends long?
Our weather insurance policies are completely customizable to your event. You determine the hours that are most important to the success of the event and we'll offer quote options for your review.
It's also possible to insure several hourly events throughout the season! You select the dates, hours, and the amount of insurance needed and let us handle the rest.  
When you plan your policy, you will want to determine the most potentially impactful time for negative weather to occur. This might be for just a few hours, an entire day, or for multiple days.
Do I have to insure every day of my event?
It's not necessary! You determine what hours of your event are the most critical and we can build a policy around that. A great way to reduce your premium is to get creative with your coverage limits, like using tiered limits and rainfall thresholds throughout the hours of operation.
You can truly be in control of a weather contingency plan by choosing a rain insurance policy that fits your budget and specific needs during your Oktoberfest planning. Our policies offer the flexibility to help protect what you want and when, and leave out what you don't. 
What determines the cost of my weather insurance?
Our custom rain insurance policies factor in the event's duration, location, time of day, time of year, and historical data to determine the best policy for your event. 
The flexibility of our policies allows you to decide the hours to insure, how much rain has to fall for the insurance to be activated, and the amount of money you'd like insured. These are some of the biggest factors in determining what a policy will cost. 
Weather insurance is an essential part of Oktoberfest planning
At Vortex Weather Insurance, we know there is a lot that goes into planning a successful seasonal event out in the elements. Unexpected weather can pop up out of nowhere, which makes weather insurance worth considering to protect your revenue and reputation.
Start building your policy with our virtual cost analysis tool or, if you prefer, give us a call or send a message and we can assist you in getting a quote. The process is quick and easy!
It's even easier to get started online with the Vortex Insurance Portal.
Call us today for a free quote 
(866) 997–2469